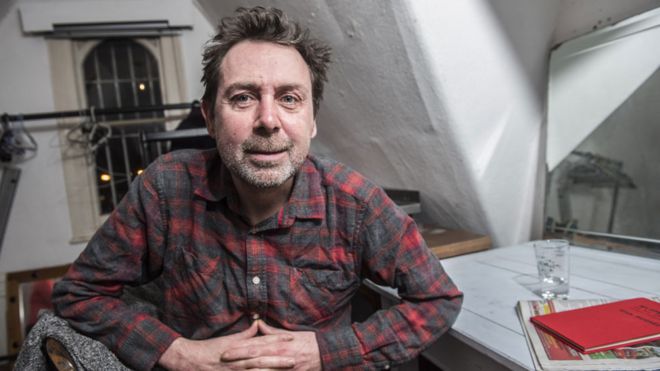 Hughes, who was a team captain on Never Mind the Buzzcocks on BBC Two, also had his own sitcom, Sean's Show.
He died on Monday, his spokesman said. Hughes' latest tweet, dated 8 October, said that he was in hospital.
Fellow comedians including Al Murray, Katy Brand and Jason Manford have been paying tribute to Hughes, who was also a writer and actor.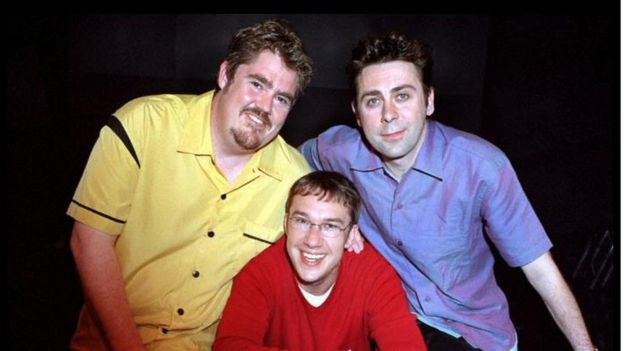 Hughes was the youngest person to win the coveted Perrier Award – now known as the Edinburgh Comedy award – in 1990.
Brand described him as "a brilliant comedian".
David Schneider said he was "an engagingly funny man."
Manford described Hughes as "a brilliant comic and a lovely bloke".
Murray said it was "terribly sad news". And Richard Herring described the news as "a punch in the soul".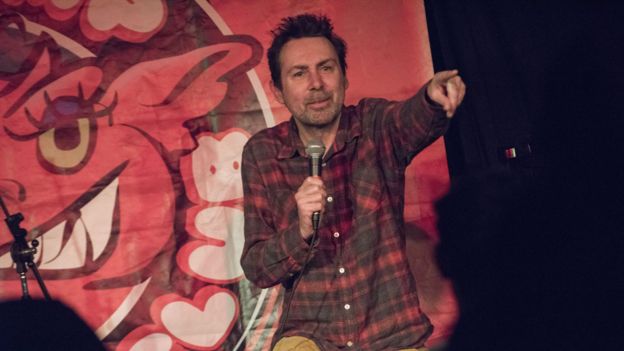 Hughes had a varied career, including a role in hit film The Commitments.
He also played station master Mr Perks in the award-winning London play, The Railway Children.
---
Sean Hughes' career
The Commitments: After beginning to make his name, he played Dave, an A&R man for Eejit Records, in Alan Parker's classic 1991 film The Commitments. He also had roles in Snakes and Ladders, Puckoon and The Butcher Boy
Sean's Show: He was the loveable loser in his own surreal sitcom, in which he received messages from God on his answering machine, spoke to a spider who was actually Elvis Presley and made catchphrases out of saying "hiya!" and "buh bye"
Never Mind the Buzzcocks: Between 1996-2002, he was one of the team captains on the madcap BBC music quiz, poking fun at the boy band members and minor celebrities who appeared alongside him
BBC 6 Music: When BBC 6 Music launched in 2002, he hosted its Sunday morning show, The Sunday Lie In, which promised "informed cynicism, easy listening and dysfunctional pop"
Coronation Street: In 2007, he spent a couple of months on Coronation Street playing womanising travelling salesman Pat, who started an affair with Eileen Grimshaw
Novelist: Off-screen, he wrote books including It's What He Would've Wanted, following an alienated thirtysomething searching for answers after his father's suicide and The Detainees, about a man who decides to take revenge on an old school bully
---
On TV, he starred in ITV series The Last Detective, where he played Mod Lewis, friend to Peter Davison's title character, DC Dangerous Davies.
As well as his role as Pat on Coronation Street, he also appeared in BBC One's Casualty in 2015.